CUSTOM DOLL OPTION INFORMATION
BREAST OPTION: NORMAL, HOLLOW, JELLY
When you squeeze Normal, your fingers & thumb would make an indentation, and it's very resilient, but a bit solid. Laying on top of them was pleasant. It is 99% close to the real breast.
When you squeeze Hollow, your fingers & thumb will come together with only the TPE material between them. Laying on top of them they won't flatten out (they felt great), or when you raise myself up on your elbow to feel her breast, they felt great. It is 95% close to the real breast.
Jelly breast is the main material for breast augmentation. 99% close to the real breast. When you squeeze Jelly breasts, it will make you feel that it is soft and elastic, you will enjoy it so much that I can't put it down.
All of these feel amazing and jiggle like crazy.

FEET OPTION: NORMAL or STANDING
Normal feet cannot stand because of the balance thing. Also, it may ruin her feet if you make her stand by force. So never try it.
Youqdoll's sex doll is composed of an outer flesh-like material, such as TPE, which surrounds an internal heavy metallic skeleton. The majority of sex dolls are in 50-90 lb. range. Some sex dolls can weight near 100 lbs. This downward force would easily penetrate through the 0.5-1.0" of flesh on the bottom of the feet if the doll were to be stood up on its own, even once. The "standing feet" option adds threaded bolts to the bottom of the doll's feet, three per foot, which connect directly to the internal skeleton. This way when the doll is stood up, the weight is applied and transferred through the bolts and not transferred through the soft flesh of the bottom of the doll's feet.
Although you will most likely rarely use it, however, if you do not want to damage her feet when you move her around, then you will need the standing feet option otherwise you will never be able to set her down without having the metal rods that are being used as skeleton transpiercing her TPE feet skin.
VAGINA OPTION: FIXED or REMOVABLE
If the doll you choose is heavy and that you do not want to move her around and having to bring her in the shower after usage, you will need the removable vagina. However, if the doll is not that heavy. You may prefer the fixed vagina. Aesthetically, it looks the same.
I'll give you examples:
For a 70 pounds doll, I use an removable vagina. The doll is quite heavy to carry around, however, for my 50 pounds doll, I prefer to bring her into the shower as I like and no need to remove the vagina and put it back.
Both have pros and cons.
In summary, based on our experience with both options: If you can easily bring your doll to the shower, take a fixed vagina.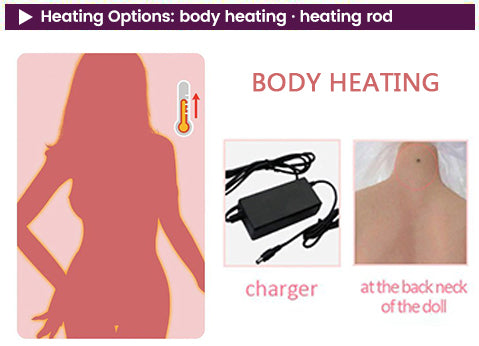 INTERNAL BODY HEATING SYSTEMS
Our sex dolls offer an internal heating systemthat allows you to easily heat the dolls body from the inside out. This method, although the most is expensive, will give you the best results for consistent heat throughout the dolls body.
How does it work?
Wiring will be run through the doll's body and there will be a plug outlet somewhere on the doll's body. The doll will also come with a wire that will plug into the doll's body and the other end will run to the wall outlet. On the wire is a small control panel where you can set the temperature you want your doll heated to. Once set, the doll's torso, vagina, and anus will reach the temperature in about 30 mins and will be ready for use.
Advantages
    Most realistic experience.
    Consistent heating throughout the doll's body with the touch of a button.
    Easy to use.
Free External Heating Devices
All dolls will include a small external heating device with each doll purchase. It is free of charge and without having to specifically request it.
How does it work?
The device will be a small heating wand with a USB plug that you can insert into the doll's vagina or anus to heat it before use.
Disadvantages
    Heating limited to small area, not full body like the internal systems.
    Less realistic than internal body heating systems.
Skeleton Option: Standard, Shrugging Shoulder & Yoga
In the process of purchasing sex dolls, some new doll players may be confused about the choice of standard, Shrugging Shoulder and Yoga skeletons. We will give you a detailed explanation here.
Standard Skeleton
Standard skeleton doesn't allow your doll to shrug its shoulders. It can only bend forwards and backwards. The elbows and knees can be bent slightly, about 90 degrees.
Shrugging Shoulder Skeleton
Shrugging Shoulder Skeleton can make your doll shrug its shoulders. More realistic and can assume different poses more freely.
Yoga Skeleton
The spine and joint of yoga skeleton are more flexible and can lean left and right, which help in creating the hot intimate times desired by doll lovers. Legs can be bent into W position or downwards to touch buttocks.
Compared to the standard skeleton, yoga is a more advanced skeleton, which is super flexible and allows for more natural, human-like posing for both modeling/photography and sexual positions. So that they can squat, stretch and kneel like real human.
You need to pay extra to upgrade the skeleton of your doll. So if you do not have more requirements for joints flexibility, just simple postures, the standard skeleton will meet your needs. If you're always looking for more flexibility in your dolls, Shrugging Shoulder and Yoga skeleton is your best choice.